As any operations manager could confirm, the price of manual labour in Australia is not cheap and with the Reserve Bank of Australia, the Australian Bureau of Statistics and individual industry researchers predicting further increases, mounting pressure is being placed on manufacturers and processors to improve overall efficiency.
The ABS has reported an increase in wages of 3.7% in the last 12 months while RIS Shrapnel, in a recent research paper, has predicted a further wage increase in 2013/14 with it tipped to peak at 5.5% in 2014/15, due to a number of factors including an acceleration in profits, a low un-employment rate and a high Australian dollar. Further to these, the RBA has also foreseen an above median rise in inflation; further attributing to these predicated increases.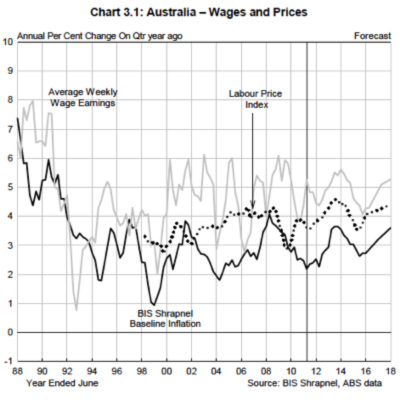 The increase in consumer demand, coupled with the aforementioned rise in labour costs has manufacturers, processors and packers searching for ways to increase output while reducing operational costs. This is where automation can assist.
Automation involves the substitution of slow, costly and un-reliable manual labour with machinery and equipment that streamline processes while also increasing productivity. Automation could be suitable in a number of different applications including the manufacturing, processing and packaging of food, beverages, pharmaceuticals, fruit and vegetables.
Impact Automation Solutions can assist in the partial or complete automation of manufacturing, processing and packaging lines. Our engineers with over 30 years of automation and business solution management can review your current operations, discuss your needs, requirements and concerns and propose affordable and realistic solutions that allow you to meet both your short and long term goals. We can then source high quality equipment and machinery from industry leading suppliers and handle the entire integration process from conception through to installation.
Justification of Automation
An example of the labour savings for a recent project that involved Impact Automation assisting with the packaging of fresh produce is seen below.
Based on a labour rate of $19.63 per hour and add on costs of workers compensation levy, superannuation, training levy etc. which normally run to about $5.00 per hour per person, approximately $25 p/h for ease of the equation.
Cost of Labour
$25 x 6hrs per day = $150 per head, per day.
An average line for this type of application would have usually included between 20 and 25 staff.
20 staff x $150 = $3000 per day
25 staff x $150 = $3750 per day
Equipment Cost
Packaging Equipment: USD $235,736
Freight: USD $7,500
Total: USD $243,236
Based on AUD/USD Exchange rate of $1.03: AUD $236,151
Labellers, Inkjet Printer and Local Freight: AUD $34,499
TOTAL INVESTMENT: AUD $270,650
Payback
Based on the figure of $270,650 the payback period are as follows:
20 staff = 90 days
25 staff = 72 days
In as little as 72 days, this particular client had the ability to be making an additional $3000 - $3750 per day based solely on labour savings.
This data reflects how automation can remove costly manual labour, replace it with equipment and greatly improve the overall efficiency of a produce packaging line, thus increasing the profitability of the entire operation.
Please don't hesitate to contact us to discuss your current application and to see if we can assist.
back to News